The X from Outer Space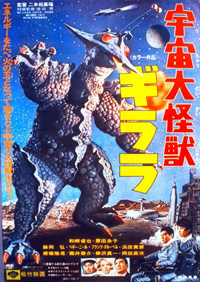 Movie Information:
Release Date: March 25, 1967
Production Company: Shochiku
Distribution Company: Shochiku
Original Runtime: 88 minutes
Atlernate Titles:

Japanese: 宇宙大怪獣ギララ
Hepburn: Uchu Daikaiju Girara
Literal Translation: Space Monster Guilala
Cast
Toshiya Wazaki as Captain Sano
Peggy Neal as Lisa Schneider
Itoko Harada as Michiko Taki
Shinichi Yanagisawa as H. Miyamoto
Eiji Okada as Dr. Kato
Franz Gruber as Dr. Berman
Keisuke Sonoi as Dr. M. Shioda
Mike Daneen as Dr. Stein
Torahiko Hamada as Kimura
Ryuji Kita as Military Official
Hiroshi Fujioka as Moon Station Worker
Takanobu Hozumi as FAFC Technian
Wataru Nakajima as Defense Secretary
Masatsugu Hashimoto as Chief Cabinet Secretary
Koji Nakata as Police Commissioner
Reiko Muto as Lisa Schneider (voice)
Tamio Oki as Dr. Berman (voice)
Teiji Omiya as Dr. Stein (voice)
Crew
Producer: Akihiko Shimada
Director: Kazui Nihomatsu
SFX Director: Hiroshi Ikeda
Screenplay: Kazui Nihonmatsu, Eibi Motomuchi, Moriyoshi Ishida
Cinematography: Shizuo Hirase
Music: Taku Izumi
Editor: Yoshi Sugihara
Assistant Director: Keiji Shiraki
Art Director: Shigemori Shigeta
Lighting: Toshifumi Takahashi, Tadashi Tsubuki
Sound Recording: Hiroshi Nakamura
Production Manager: Makoto Naito
Special Effects Supervisor: Keiji Kawakami
SFX Cinematography: Chitora Okoshi
Continuity: Tatsuo Hagiwara
Production Stills: Jusan Kajimoto
Songwriters: "Guilala Rock" by Bonny Jacks and "Ballad of the Moon and Stars" by Chieko Baisho, both composed by Taku Izumi
Alternate Versions
International
United States
The X from Outer Space
Iterations
Notes:

An international export English version was made, and the film was dubbed into English in Japan. The firm used is not officially known, it was certainly not Frontier as William Ross and others' voices are absent. It could well have been Pedro Production, a competing Japanese English dubbing house known best for the atrocious export dub of Gamera vs. Guiron, as the dub's quality standard typical of Pedro. The voice cast is completely unknown, though Mike Daneen, who apparently dubbed for Pedro, may have dubbed himself.