The War in Space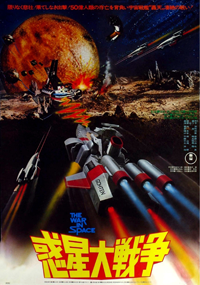 Movie Information:
Release Date: December 17, 1977
Production Company: Toho
Distribution Company: Toho
Original Runtime: 91 minutes
Atlernate Titles:

Japanese: 惑星大戦争
Hepburn: Wakusei Daisenso
Literal Translation: Great Planet War
Cast
Kensaku Morita as Koji Miyoshi
Yuko Asano as Jun Takigawa
Masaya Oki as Muroi
Ryo Ikebe as Dr. Masato Takigawa
Katsutoshi Atarashi as Tadashi Mikasa
Hiroshi Miyauchi as Kazuo Fuyuki
David Perlin as Jimmy
William Ross as Dr. Schimdt
Takashi Kanematsu as Tetsuo Kusaka
Futoshi Kikuchi as Goro Minato
Hideji Otaki as Dr. Matsuzawa
Akihiko Hirata as Commander Oishi
Toshikazu Moritagawa as Ishiyama
Goro Mutsumi as Commander Hell
Isao Hashimoto as Scientist #1
Go Endo as Scientist #2
Shoji Nakayama as Defense Staff
Wataru Yamamoto as Goten Captain
Yu Naoko as Goten Vice-Captain
Yosuke Takemura as Goten Communications Officer #1
Shinichi Yoshimiya as Goten Communications Officer #2
Shinji Kawabata as Goten Bridge Officer #1
Koichi Yoshida as Goten Bridge Officer #2
Fumitsugu Hayata as Goten Bridge Officer #3
Junichi Eto as Goten Crew #1
Osamu Murashima as Goten Crew #2
Susumu Otani as Goten Crew #3
Isao Setoyama as Goten Radar Officer
Mammoth Suzuki as Space Beastman
Crew
Producers: Tomoyuki Tanaka, Fumio Tanaka
Director: Jun Fukuda
Special Effects Director: Teruyoshi Nakano
Screenplay: Shuichi Nagahara, Ryuzo Nakanishi
Cinematography: Yuzuru Aizawa
Music: Toshiaki Tsushima
Editor: Michiko Ikeda
Assistant Director: Ippei Imamura
Art Director: Kazuo Satsuya
Lighting: Shinji Kojima
Sound Recording: Toshiya Ban
Production Manager: Toshiaki Hashimoto
Stunts: Japan Action Club
Assistant SFX Director: Koichi Kawakita
SFX Cinematography: Takeshi Yamamoto
SFX Art Director: Yasuyuki Inoue
SFX Lighting: Masukuni Morimoto
SFX Unit Production Manager: Keisuke Shinoda
VFX Optical Photography: Takeshi Miyanishi
Mechanical Effects: Tadashi Watanbe
Still Photographer: Yoshinori Ishizuki
SFX Still Photographer: Kazukiyo Tanaka
Alternate Versions
International
United States
France
The War in Space
Iterations
Theatrical

Notes:

An international English version was made. It is unknown where the film was dubbed, some suspect Hong Kong, but the voices are completely different from either of the Hong Kong dubbing teams Toho used in the 70's and 80's. Another theory is that the film was dubbed in France, possibly by Les Filmes Jacques Willemetz. The voices are similar to those found in the dub of Shaw Brothers' Might Peking Man, which was also released in 1977 and was dubbed into English in France.
Video Action - U.S. VHS

Release Date: Circa 1984

Notes:

The War in Space received a VHS release by Video Action in 1984, and features the international dubbing, complete with opening and end titles in red text.
A brief shot containing Muroi's line "Jimmy" approximately 62 minutes into the film is missing.
Diskotek Media - U.S. DVD

Release Date: April 25, 2006

Notes:

In 2006, Diskotek Media released The War in Space on Region 1 DVD in the United States. This DVD features the international dub, synchronized to the Japanese version of the film with Japanese text and credits.
There are a few seconds of missing music at the opening Toho logo.
Similar to Video Action's 1984 VHS, Muroi's line "Jimmy", approximately 62 minutes into the film is not heard and the audio is briefly out of synch during that sequence.