Son of Godzilla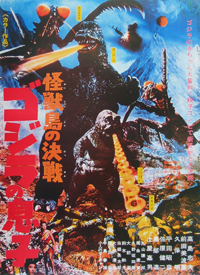 Movie Information:
Release Date: December 16, 1967
Production Company: Toho
Distribution Company: Toho
Original Runtime: 86 minutes
Atlernate Titles:

Japanese: 怪獣島の決戦 ゴジラの息子
Hepburn: Kaiju-to no Kessen: Gojira no Musuko
Literal Translation: Monster Island's Decisive Battle: Son of Godzilla
Cast
Tadao Takashima as Professor Kusumi
Bibari Maeda (as Beverly Maeda) as Saeko Matsumiya
Akira Kubo as Goro Maki (reporter)
Akihiko Hirata as Fujisaki
Kenji Sahara as Morio
Yoshio Tsuchiya as Furukawa
Susumu Kurobe as Navigator
Kazuo Suzuki as Pilot
Kenichiro Maruyama as Ozawa
Seishiro Kuno as Tashiro
Yasuhiko Saijo as Suzuki
Chotaro Togin as Surveyor
Wataru Omae as Radio Operator
Seiji Onaka as Godzilla (land scenes)
Hiroshi Sekida as Godzilla (land scenes)
Haruo Nakajima as Godzilla (water scenes)
Marchan the Dwarf (uncredited) as Minilla
Osman Yusuf (uncredited) as Submarine Captain
Crew
Director: Jun Fukuda
Executive Producer: Tomoyuki Tanaka
Screenwriters: Shinichi Sekizawa, Kazue Shiba
Cinematographer: Kazuo Yamada
Art Director: Takeo Kita
Recording: Shin Watarai, Toshiya Ban
Lighting: Eiji Yamaguchi, Shoshichi Kojima
Assistant Director: Teruyoshi Nakano
Editor: Ryohei Fujii
Sound Effects: Minoru Kanyama
Production Manager: Yasuaki Sakamoto
Composer: Masaru Sato
Special Effects Director: Sadamasa Arikawa
Special Effects Supervisor: Eiji Tsuburaya
Alternate Versions
International
United States
United Kingdom
Germany
Italy
France
Spain
Son of Godzilla
Dub Studio: Frontier Enterprises
Rated: MPAA (USA) G
Dub Cast
Bill Ross as Professor Kusumi
Patricia Kobayashi as Saeko Matsumiya
Burr Middleton as Goro Maki (reporter), Navigator, Suzuki
Robert Dunham as Fujisaki
Bud Widom as Ozawa
Iterations
Notes:

The original international version was released on VHS in the U.K. in the 1990's.
Sony

Notes:

When Sony released Son of Godzilla on DVD in 2004, they made a new video master for Toho.
Sony's new international version features a video-generated title card and ending title, which is a bit small in comparisson to the original. New credits that resemble the original international credits were added, which replace Bibari Maeda's name with the more common "Beverly Maeda" rendering.
This version replaces the original Toho logo with a new CGI Toho logo.