The Mysterians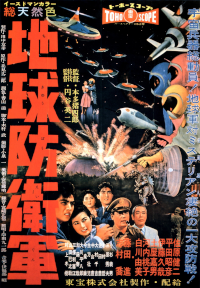 Movie Information:
Release Date: December 28, 1957
Production Company: Toho
Distribution Company: Toho
Original Runtime: 89 minutes
Atlernate Titles:

Japanese: 地球防衛軍
Hepburn: Chikyu Boeigun
Literal Translation: Earth Defense Force
Cast
Kenji Sahara as Joji Atsumi
Yumi Shirakawa as Etsuko Shiraishi
Momoko Kochi as Hiroko Iwamoto
Akihiko Hirata as Ryoichi Shiraishi
Takashi Shimura as Dr. Kenjiro Adachi
Susumu Fujita as General Morita
Hisaya Ito as Captain Seki
Yoshio Kosugi as Commander Sugimoto
Fuyuki Murakami as Dr. Nobu Kawanami
Yoshio Tsuchiya as Mysterian Leader
Minosuke Yamada
Tetsu Nakamura as Dr. Koda
Heihachiro Okawa
Takeo Oikawa
Haruya Kato
Senkichi Omura
Yutaka Sada
Hideo Mihara
Rikie Sanjo
Soji Ubukata
Mitsuo Tsuda
Ren Imaizumi
Shin Otomo
Jiro Kumagai
Akio Kusama
Shoichi Hirose
Tadao Nakamaru
Kamayuki Tsubono
Rinsaku Ogata
Yasuhiro Shigenobu
George Furness
Harold S. Conway
Haruo Nakajima
Katsumi Tezuka
Crew
Producer: Tomoyuki Tanaka
Director: Ishiro Honda
Original Story: Jojiro Okami
Adaptation from the Original Story: Shigeru Kayama
Screenplay: Takeshi Kimura
Cinematography: Hajime Koizumi
Production Design: Teruaki Abe
Sound Recording: Masanobu Miyazaki
Lighting: Kuichiro Kishida
Music: Akira Ifukube
Assistant Director: Koji Kajita
Sound Effects: Ichiro Minawa
Editing: Koichi Iwashita
Film Processing: Tokyo Laboratories
Line Producer: Yasuaki Sakamoto
Director of Special Effects: Eiji Tsuburaya
Special Effects Photography: Hidesaburo Araki & Sadamasa Arikawa
Special Effects Production Design: Akira Watanabe
Special Effects Lighting: Masao Shirota
Composition: Hiroshi Koyama
Alternate Versions
Japan
United States
Latino
United Kingdom
France
Germany
Italy
Mexico
Argentina
Theatrical title: Earth Defense Force
Iterations
Notes:

The Japanese theatrical version of The Mysterians has not featured major edits over the years and is widely available on home video inside and outside of Japan.
Champion Festival title: Earth Defense Force
Release Date: March 18, 1978
Runtime: 70 minutes
Iterations
Notes:

The Champion Festival version of the Mysterians cuts out about 19 minutes of runtime. This version was not editied from the original camera negative.