Message from Space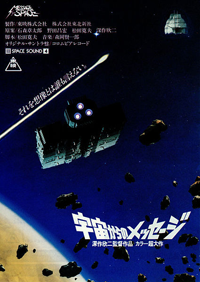 Movie Information:
Release Date: April 29, 1978
Production Company: Toei
Distribution Company: Toho
Original Runtime: 105 minutes
Atlernate Titles:

Japanese: 宇宙からのメッセージ
Hepburn: Uchu Kara no Messeji
Literal Translation: Message from the Universe
Cast
Vic Morrow as General Garuda
Sonny Chiba as Prince Hans
Philip Casnoff as Aaron
Peggy Lee Brennan as Meia
Hiroyuki Sanada as Shiro
Masazumi Okabe as Jack
Etsuko Shihomi as Emeralida
Makoto Sato as Urocco
Mikio Narita as Emperor Rockseia XII
Junkichi Orimoto as Kido
Tetsuro Tanba as President Ernest Noguchi
Noburo Mitani as Kamesasa
Hideyo Amamoto as Empress Dowager Dark
Isamu Shimizu as Beba 2
Masataka Naruse as Hikiroku
Thunder Sugiyama as Big Sam
Nenji Kobayashi as Patrol Officer
Jerry Ito as Earth Federation Forces Commander
Shotaru Hayashi as Earth Federation Forces Captain
Seizo Fukumoto as Guerilla Fighter
William Ross as Spaceship Captain
Takayuki Akutagawa as Narrator
Crew
Producers: Tan Takaiwa, Toru Hirayama, Akira Ito, Yusuke Okada, Naoyuki Sugimoto, Simon Tse, Banjiro Uemura, Yoshinori Watanabe
Director: Kinji Fukasaku
Special Effects Director: Nobuo Yajima
Screenplay: Hiro Matsuda, Kinji Fukasaku, Shotaro Ishinomori (story), Masahiro Noda (story)
Cinematography: Toru Nakajima
Music: Kenichiro Morioka
Editor: Isamu Ichida
Assistant Director: Akiyasu Tawarazaka
Art Director: Michio Mikami
Lighting: Tokuji Wakaki
Sound Recording: Teruhiko Arakawa
Assistant Special Effects Director: Kiyotaka Matsumoto
Special Effects Cinematography: Noboru Takanashi
Visual Effects: Minoru Nakano
Conceptual Design: Shotaro Ishinomori, Akira Hio
Alternate Versions
Message from Space
Release Date: October 30, 1978
Distribution Company: United Artists
Dub Cast
Norman Rose as Narrator
Iterations
Notes:

No export version was made that we know of as the film was sold to United Artists fairly quickly for an American theatrical release. The U.S. dubbing was likely done in New York, as it bears similarities to the Titan dubs. Like Nick Adams and Russ Tamblyn in the past, Vic Morrow and Philip Casnoff (and likely Peggy Lee Brennan as well) have their voices and English performances, which were dubbed in Japanese in the Japanese version, reinstated in the U.S. cut. The film is otherwise nearly cut for cut the same as the Japanese version, with the United Artists logo playing over the Toei fanfare.