Matango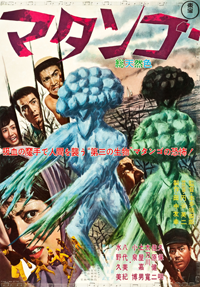 Movie Information:
Release Date: August 11, 1963
Production Company: Toho
Distribution Company: Toho
Original Runtime: 89 minutes
Atlernate Titles:

Japanese: マタンゴ
Hepburn: Matango
U.S. Title: Attack of the Mushroom People
Cast
Akira Kubo as Kenji Murai
Kumi Mizuno as Mami Sekiguchi
Hiroshi Koizumi as Naoyuki Sakuta
Kenji Sahara as Senzo Koyama
Hiroshi Tachikawa as Etsuro Yoshida
Yoshio Tsuchiya as Fumio Kasai
Miki Yashiro as Akiko Soma
Hideyo Amamoto as Hero Transitional Matango
Haruo Nakajima as Hero Matango
Jiro Kumagai as Doctor
Katsumi Tezuka as Policeman
Akio Kusama as Policeman #2
Yutaka Oka as Doctor #2
Keisuki Yamada as Doctor #3
Tokio Okawa as Matango
Toku Ihara as Matango
Masaki Shinohara as Matango
Kuniyoshi Kashima as Matango
Mitsuko Hayashi as Nurse
Tsurue Ichimanji as Nurse #2
Crew
Producer: Tomoyuki Tanaka
Director: Ishiro Honda
Special Effects Director: Eiji Tsuburaya
Screenplay: Takeshi Kimura, William Hope Hodgson (story Voice in the Night)
Cinematography: Hajime Koizumi
Music: Sadao Bekku
Editor: Reiko Kaneko
Assistant Director: Koji Kajita
Art Director: Shigekazu Ikuno
Lighting: Shoshichi Kojima
Sound: Hisashi Shimonaga, Minoru Kaneyama
Sound Recording: Fumio Yanaguchi
Production Manager: Shigeru Nakamura
Assistant SFX Director: Teruyoshi Nakano
SFX Cinematography: Sadamasa Arikiawa, Mototaka Tomioka
SFX Art Director: Akira Watanabe
SFX Lighting: Kuichiro Kishida
SFX Unit Production Manager: Tadashi Koike
VFX Opticals: Hiroshi Mukoyama
VFX Optical Photography: Yukio Manoda, Yoshiyuki Tokumasa
Costume and Conceptual Designs: Shigeru Komatsuzaki
Monster Design: Toru Narita
Still Photographer: Kazukiyo Tanaka
Alternate Versions
International
United States
United Kingdom
Italy
France
Matango
Dub Cast
Ted Thomas as Naoyuki Sakuta
Linda Mason as Akiko Soma
John Wallace as Senzo Koyama
Iterations
Notes:

An international export English version was produced and was dubbed into English in Hong Kong.
The full export version was released on video in Europe and the full international dub can be heard on the 2005 Region 1 Media Blasters DVD, but is missing the (international) opening and end credits.