Invasion of Astro-Monster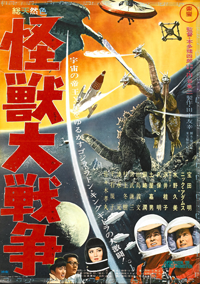 Movie Information:
Release Date: October 19, 1965
Production Company: Toho
Distribution Company: Toho
Original Runtime: 94 minutes
Atlernate Titles:

Japanese: 怪獣大戦争
Hepburn: Kaiju Daisenso
Literal Translation: The Giant Monster War
US Theatrical Title: Monster Zero
International Title: Invasion of the Astro-Monsters
Cast
Akira Takarada as Astronaut Kazuo Fuji
Nick Adams as Astronaut Glenn
Kumi Mizuno as Namikawa
Keiko Sawai as Funi Harno
Jun Tazaki as Doctor Sakurai
Yoshio Tsuchiya as Controller of Planet X
Akira Kubo as Tatsuo Torii
Takamaru Sasaki as Chairman of Earth Committee
Fuyuki Murakami
Yoshifumi Tajima as General
Kenzo Tabu as Commander from Planet X, Earth Unit
Noriko Sengoku
Somemasu Matsumoto as Buddhist Priest
Gen Shimizu as Minister of Defense
Toru Ibuki as Xilien, Earth Unit
Kazuo Suzuki as Xilien, Earth Unit
Yasuhisa Tsutsumi
Hiroo Kirino as Military Aide
Toki Shiozawa
Mitsuo Tsuda as Xilien
Takuzou Kumagai as Xilien
Koji Uno as Namikawa's Associate
Masaaki Tachibana as Xilien
Yutaka Oka
Rinsaku Ogata
Tadashi Okabe
Ryouji Shimizu as Xilien
Hideki Furukawa as Xilien
Kamayuki Tsubono
Minoru Ito as Xilien
Goro Naya as Voice of Nick Adams
Haruo Nakajima as Godzilla
Masanori Shinohara as Rodan
Shoichi Hirose as King Ghidorah
Crew
Director: Ishiro Honda
Executive Producer: Tomoyuki Tanaka
Screenwriter: Shinichi Sekizawa
Cinematographer: Hajime Koizumi
Art Director: Takeo Kita
Recording: Wataru Konuma
Lighting: Shoshichi Kojima
Composer: Akira Ifukube
Music Arrangement: Takashi Shimonaga
Assistant Director: Koji Kajita
Editor: Ryohei Fujii
Sound Effects: Sadamasa Nishimoto
Image Composition: Hiroshi Mukoyama
Production Managers: Masao Suzuki, Tadashi Koike
Special Effects Director: Eiji Tsuburaya
Special Effects Assistant Director: Teruyoshi Nakano
Special Effects Cinematographers: Sadamasa Arikawa, Motonari Tomioka
Optical Photographers: Yukio Manoda, Sadao Iizuka
Special Effects Lighting: Kuichiro Kishida
Special Effects Art Director: Akira Watanabe
Physical Effects: Fumio Nakadai
Alternate Versions
Japan
United States
International
France
Germany
Mexico
Spain
Brazil
Italy
China
Theatrical title: The Giant Monster War
Release Date: October 19, 1965
Runtime: 94 minutes
Iterations
Theatrical

Notes:

In 1971, Toho edited the Japanese version of Invasion of Astro-Monster for the Champion Festival release, and this edit was done on the original film negatives. Sometime in the 1970's or early 1980's, Toho lost unedited interpositive and internegative elements for Invasion of Astro-Monster, along with similar elements for other films.
Reconstructed

Release Date: Circa 1986

Notes:

Sometime between 1983 and 1986, Toho rediscovered foreign duplicate negative picture elements and the original Japanese audio, and used these elements to reconstruct the Japanese version.
Champion Festival title: The Giant Monster War King Ghidroah vs. Godzilla
Release Date: March 17, 1971
Runtime: 73 minutes
Iterations
Alternate Titles

Champion Festival (Japanese): 怪獣大戦争 キングギドラ対ゴジラ
Champion Festival (Hepburn): Kaiju Daisenso Kingu Gidora tai Gojira
Champion Festival (Literal Translation): The Giant Monster War King Ghidroah vs. Godzilla

Notes:

The original film negative was cut in order to produce the shortend version for Toho's Champion Festival.
The Champion Festival version replaces the opening text that dates the movie as taking place in "196X" with a narration that explains that the movie takes place in "197X". The narration occurs at several additional points throughout the movie.