Goke, Body Snatcher from Hell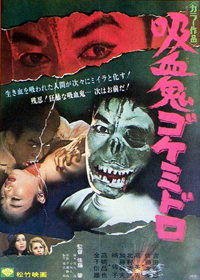 Movie Information:
Release Date: August 14, 1968
Production Company: Shochiku
Distribution Company: Shochiku
Original Runtime: 84 minutes
Atlernate Titles:

吸血鬼ゴケミドロ: Japanese
Kyuketsuki Gokemidoro: Hepburn
Vampire Gokemidoro: Literal Translation
Body Snatcher from Hell: U.S. Title
Cast
Teruo Yoshida
Tomomi Sato
Hideo Ko
Masaya Takahashi
Nobuo Kaneko
Eizo Kitamura
Yuko Kusonoki
Kazuo Kato
Hiroyuki Nishimoto
Norihiko Yamamoto
Cathy Horan
Keichi Noda
Harold Conway
Crew
Producer: Takeshi Inomata
Director: Hajime Sato
Screenplay: Susumu Takaku, Kyuzu Kobayashi
Cinematography: Shizuo Hirase
Music: Shunsuke Kikuchi
Editor: Akimitsu Terada
Assistant Director: Keiji Shiraki
Art Director: Tadataka Yoshino
Lighting: Yoshifumi Aoki
Sound Recording: Hiroshi Nakamura
Production Manager: Masoyuki Fukuyama
Special Effects: Michio Mikami
Alternate Versions
International
United States
Goke, Body Snatcher from Hell
Dub Cast
Ted Thomas as Airplane Captain, Noriko Tokuyasu
Barry Haigh as Toshiyuki Saga
Michael Kaye as Gozo Mano
Esma Wilson as Kazumi Asakura
Iterations
Notes:

An international export English version was made. The film was dubbed into English in Hong Kong. The full international version was never released anywhere on video that we know of, but Pacemaker's 1977 U.S. version is quite faithful to it.