Terror of Mechagodzilla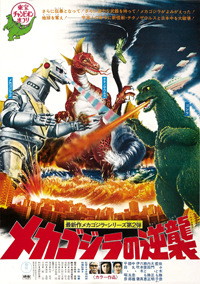 Movie Information:
Release Date: March 15, 1974
Production Company: Toho
Distribution Company: Toho
Original Runtime: 83 minutes
Atlernate Titles:

Japanese: メカゴジラの逆襲
Hepburn: Mekagojira no Gyakushu
Literal Translation: Counterattack of Mechagodzilla
US Theatrical Title: The Terror of Godzilla
UK Theatrical Title: Monsters from an Unknown Planet
Cast
Katsuhiko Sasaki as Akira Ichinose
Tomoko Ai as Katsura Mafune
Akihiko Hirata as Dr. Shinzo Mafune
Katsumasa Uchida as Jiro Murakoshi
Tomoe Mari as Lily Yamamoto
Goro Mutsumi as Mugal
Toru Ibuki as Tsuda
Shin Roppongi as Yuichi Wakayama
Tadao Nakamaru as Tagawa
Kotaro Tomita as Professor Ota
Masaki Daimon as Kusakari
Kazuo Suzuki as Black Hole Alien #1
Yoshio Kirishima as Black Hole Alien #2
Masayoshi Kikuchi as Black Hole Alien #3
Takuya Yuki as Black Hole Alien #4
Jun Nishihara as Black Hole Alien #5
Akinori Umezu as Schoolboy
Ikio Sawamura as Mafune's Butler
Kenji Sahara as Defense Force Commander
Toru Kawai as Godzilla
Kazunari Mori as Mechagodzilla
Tatsumi Nikimoto as Titanosaurus
Crew
Producer: Tomoyuki Tanaka
Director: Ishiro Honda
Special Effects Director: Teruyoshi Nakano
Screenplay: Yukiko Takayama
Cinematography: Mototaka Tomioka
Music: Akira Ifukube
Editor: Yoshitami Kuroiwa
Assistant Director: Kensho Yamashita
Art Director: Yoshifumi Honda
Lighting: Toshio Takashima
Sound Recording: Fumio Yanoguchi
Production Manager: Keisuke Shinoda
Assistant Special Effects Director: Yoshio Tabuchi
Special Effects Art Director: Toshiro Aoki
Visual Effects Optical Photography: Yoshikazu Shinoda
Visual Effects Opticals: Yoshio Ishii
Mechanical FX: Tadaki Watanabe
Still Photographer: Kazukiyo Tanaka
Alternate Versions
International
United States
United Kingdom
Terror of Mechagodzilla
Dub Cast
Matthew Oram as Dr. Shinzo Mafune, Defense Corps Commander, Prof. Ota, and Agent Kusakari
Barry Haigh as Ichinose
Michael Ross (unconfirmed) as Mugal and Murakoshi
Esma Wilson (unconfirmed) as Katsura Mafune
Iterations
Notes:

An English international dub was made in Hong Kong. This version was released on PAL VHS in the United Kingdom which was cropped to a 1.85:1 aspect ratio, and on DVD in Hong Kong in a pan and scan format.
In 2017, it was released onto the FilmStruck streaming service in the United States.