Shin Godzilla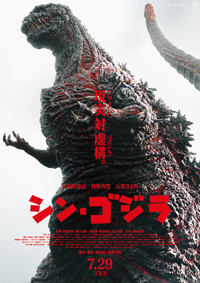 Movie Information:
Release Date: July 29, 2016
Production Company: Toho
Distribution Company: Toho
Original Runtime: 119 minutes
Atlernate Titles:

Japanese: シン・ゴジラ
Hepburn: Shin Gojira
Literal Translation: New/God/True Godzilla
Original English Title: Godzilla Resurgence
Cast
Hiroki Hasegawa as Rando Yaguchi
Satomi Ishihara as Kayoko Anne Patterson
Yutaka Takenouchi as Akasaka Akasaka
Ren Osugi as Seiji Okochi
Kengo Kora as Yusuke Shimura
Mikako Ichikawa as Hiromi Ogashira
Akira Emoto as Ryuta Azuma
Kimiko Yo as Reiko Hanamori
Jun Kunimura as Masao Zaizen
Pierre Taki as Saigo
Takumi Saito as Ikeda
Keisuke Koide as Fire Brigade Chief
Arata Furuta as National Police Agency Commissioner General
Sei Hiraizumi as Minister of Agriculture, Forestry and Fisheries
Kenichi Yajima as Minister of Land, Infrastructure, Transport and Tourism
Tetsu Watanabe as Deputy Chief Cabinet Secretary for Crisis Management
Ken Mitsuishi as Kozuka, Governor of Tokyo
Kyusaku Shimada as Katayama, Minister of Foreign Affairs
Kanji Tsuda as Bureaucrat of Ministry of Health, Labour, and Welfare
Issei Takahashi as Bureaucrat of The Ministry of Education, Culture, Sports, Science and Technology
Shinya Tsukamoto as Biologist
Kazuo Hara as Biologist
Isshin Inudo as Ancient Organism Scholar
Akira Ogata as Marine Biologist
Shingo Tsurumi as Yajima, Joint Staff Deputy
Suzuki Matsuo as Journalist
Takashi (Kreva) Hatakeyama as Official of Japan Self-Defense Forces
Katsuhiko Yokomitsu as Minister of the Environment
Atsuko Maeda as Refugee
Mansai Nomura as Godzilla
Crew
Director: Hideaki Anno
Co-director: Shinji Higuchi
Visual Effects Director: Shinji Higuchi
Associate Director, Visual Effects Creative Director: Katsuro Onoe
Chief Producer: Minami Ichikawa
Producers: Taichi Ueda, Yoshihiro Sato, Masaya Shibusawa, Kazutoshi Wadakura
Executive Producer: Akihiro Yamauchi
Writer: Hideaki Anno
Production Managers: Minami Ichikawa, Takeshi Sato, Masato Inatsuki
Line Producer: Kensei Mori
Cinematographer: Kosuke Yamada
Editors: Hideaki Anno, Atsuki Sato
Visual Effects Supervisor: Atsuki Sato
Visual Effects Producer: Tetsuo Ohya
Composer: Shiro Sagisu
Casting: Tsuyoshi Sugino
Alternate Versions
Japan
United States
Hong Kong
United Kingdom
Shin Godzilla
Distribution Company: Toho
Iterations
Theatrical

Notes:

This is the original version that was shown in Japanese theaters.
Home Video

Release Date: March 22, 2017

Notes:

When Shin Godzilla was released to DVD and Blu-ray in Japan, it included some minor changes. Two visual effects scenes were slightly modified. In a shot of the helicopters approaching Godzilla in his fourth form, heat distortion was added to the exhaust of the helicopters. Additionally, a shot showing a profile view of Godzilla's head was updated.