Godzilla Raids Again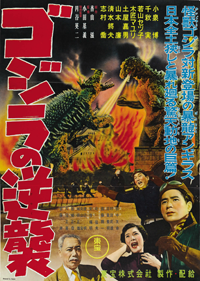 Movie Information:
Release Date: April 24, 1955
Production Company: Toho
Distribution Company: Toho
Original Runtime: 81 minutes
Atlernate Titles:

Japanese: ゴジラの逆襲
Hepburn: Gojira no gyakushu
Literal Translation: Godzilla's Counterattack
U.S. Title: Gigantis, The Fire Monster
Cast
Hiroshi Koizumi as Shoichi Tsukioka
Setsuko Wakayama as Hidemi Yamaji
Minoru Chiaki as Koji Kobayashi
Takashi Shimura as Doctor Kyohei Yamane
Masao Shimizu as Zoologist Doctor Tadokoro
Seijiro Onda as Captain Terasawa, JASDF
Sonosuke Sawamura as Hokkaido Branch Manager Shingo Shibeki
Yoshio Tsuchiya as Tajima, JASDF
Mayuri Kitakumi as Radio Operator Yasuko Inouye
Tatsunosuke Yamada as Chief of Civil Defense
Yukio Kasama as Kohei Yamaji, President of the Fishery
Senkichi Omura as Escaped Convict
Ren Yamamoto as Commander of Landing Craft
Shin Otomo as Convict Leader
Hirostoshi Tsuchiya as Fishery Manager
Takeo Oikawa as Osaka Metropolitan Chief of Police
Sokichi Maki as Prisoner
Shoichi Hirose as Prisoner
Shin Yoshida as Prisoner
Junpei Natsuki as Prisoner & Marine Fishery Branch Employee
Teruko Mita as Landlady
Katsumi Tezuka as Anguirus
Haruo Nakajima as Godzilla
Miyoko Hoshino as Cabaret Singer
Crew
Director: Motoyoshi Oda
Executive Producer: Tomoyuki Tanaka
Writer: Shigeru Kayama
Screenwriters: Takeo Murata, Shigeaki Hidaka
Cinematographer: Seiichi Endo
Art Director: Takeo Kita
Art: Teruaki Abe
Sound Recording: Masanobu Miyazaki
Lighting: Masaki Onuma
Composer: Masaru Sato
Special Effects Director: Eiji Tsuburaya
Sound Effects: Ichiro Minawa
Special Technicians: Akira Watanabe, Hiroshi Mukouyama, Masao Shirota
Assistant Director: Eiji Iwashiro
Editor: Kazuji Taira
Production Manager: Kazuo Baba
Alternate Versions
United States
United Kingdom
Germany
France
Spain
Mexico
Italy
Gigantis The Fire Monster
Release Date: June 2, 1959
Distribution Company: Pacific Theaters (local), Warner Bros. Pictures (U.S. & Latin America)
Dub Studio: Ryder Sound Services, Inc.
Runtime: 78 minutes
Dub Cast
Keye Luke as Shoichi Tsukioka
Paul Frees
George Takei as Commander of Landing Craft
Crew
Producer: Paul Schreibman
Associate Producer: Edmund Goldman
Director: Hugo Grimaldi
Editor: Hugo Grimaldi
Music Editor: Rex Lipton
Sound Effects Editor: Al Sarno
Iterations
Theatrical

Notes:

The U.S. version is almost a new film, with Godzilla's name being changed to "Gigantis", plus extensive edits. This version was based on the foreign negative of the film, which has one different special effect: a shot of some optical snow around Kobayashi's plane. It also has an additional Anguirus roar, which was silenced in the original Japanese version, resulting from something inherent to the dubbing music and effects track.
16mm

Notes:

The ending Warner Bros. logo differs between older 16mm prints and the 35mm sourced Alan Enterprises/CST master.
Home Video

Release Date: Circa 1980's

Notes:

The Video Treasures VHS labeled the movie as "Godzilla Raids Again" on the box, but the actual film print reads "Gigantis, the Fire Monster".
Classic Media

Release Date: Circa 1980's

Notes:

A video-generated "GODZILLA RAIDS AGAIN" title first appeared in the '80s when the movie started playing again on television, long before Disney Channel started airing it with the same title. This version is available on DVD from Classic Media.