Mothra vs. Godzilla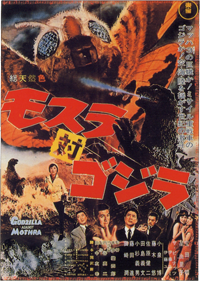 Movie Information:
Release Date: April 29, 1964
Production Company: Toho
Distribution Company: Toho
Original Runtime: 88 minutes
Atlernate Titles:

Japanese: モスラ対ゴジラ
Hepburn: Mosura tai Gojira
Literal Translation: Mothra vs. Godzilla
U.S. Title: Godzilla vs. The Thing
U.S. Home Release Alternate Title: Godzilla vs. Mothra
Cast
Akira Takarada as Ichiro Sakai
Yuriko Hoshi as Junko Nakanishi
Hiroshi Koizumi as Dr. Miura
Yu Fujiki as Jiro Nakamura
Emi Ito and Yumi Ito as The Shobijin
Yoshifumi Tajima as Kumayama
Kenji Sahara as Jiro Torahata
Jun Tazaki as Editor
Susumu Fujita as JSDF Officer
Akira Tani as Head Villager Amimoto
Senkichi Omura as Fisherman #1
Yutaka Nakayama as Fisherman #2
Koji Iwamoto as Fisherman #3
Koji Uno as Fisherman #4
Takuzo Kumagai as Fisherman #5
Shiro Tsuchiya as Fisherman #6
Hiroshi Akitsu as Fisherman #7
Ikio Sawamura as Shinto Priest
Kenzo Tabu as Local Politician
Shin Otomo as Police Officer
Haruo Nakajima as Godzilla
Crew
Producers: Tomoyuki Tanaka, Sanezumi Fujimoto
Director: Ishiro Honda
Special Effects Director: Eiji Tsuburaya
Screenplay: Shinichi Sekizawa
Cinematography: Hajime Koizumi
Music: Akira Ifukube
Editor: Ryohei Fuji
Assistant Director: Ken Sano
Art Director: Takeo Kita
Lighting: Shoshichi Kojima
Sound: Hisashi Shimonaga, Cho Tomahisa
Sound Recording: Fumio Yanaguchi
Production Manager: Shigeru Nakamura
Assistant Special Effects Director: Teruyoshi Nakano
Special Effects Cinematography: Sadamasa Arikiawa, Mototaka Tomioka
Special Effects Art Director: Akira Watanabe
Special Effects Lighting: Kuichiro Kishida
Special Effects Unit Production Manager: Tadashi Koike
Visual Effects Opticals: Hiroshi Mukoyama
Visual Effects Optical Photography: Yukio Manoda, Yoshiyuki Tokumasa
Still Photographer: Jiro Tsuchiya
Special Effects Still Photographer: Goichi Araki
Alternate Versions
Japan
United States
United Kingdom
Germany
Spain
France
Italy
Mothra vs. Godzilla
Release Date: December 19, 1970
Runtime: 73 minutes
Iterations
Toho Champion Festival

Notes:

Original film negative was cut to conform to either the December 17, 1970 Toho Champion Matsuri (Toho Champion Festival) or to the 1980 reissue.
After the negative was cut, all Japanese-domestic and foreign releases of the Japanese version have since used an Internegative element.