Godzilla vs. Megalon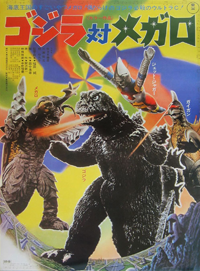 Movie Information:
Release Date: March 17, 1973
Production Company: Toho
Distribution Company: Toho
Original Runtime: 81 minutes
Atlernate Titles:

Japanese: ゴジラ対メガロ
Hepburn: Gojira tai Megaro
Literal Translation: Godzilla vs. Megalon
Cast
Katsuhiko Sasaki as Goro Ibuki
Yutaka Hayashi as Hiroshi Jinkawa
Hiroyuki Kawase as Rokuro Ibuki
Kanta Mori as JSDF Commander
Kotaro Tomita as Lead Seatopian Agent
Wolf Ohtsuki as Seatopian Agent
Sakyo Mikami as Truck Driver's Assistant
Gentaro Nakajima as Truck Driver
Robert Dunham as Emperor Antonio of Seatopia
Shinji Takagi as Godzilla
Hedeto Odachi (as Hideto Date) as Megalon
Tsugutoshi Komada as Jet Jaguar
Kenpachiro Satsuma (as Kengo Nakayama) as Gigan
Fumio Ikeda
Masachika Mori
Crew
Director: Jun Fukuda
Executive Producer: Tomoyuki Tanaka
Writers: Jun Fukuda, Takeshi Kimura, Shinichi Sekizawa
Cinematographer: Yuzuru Aizawa
Art Director: Yoshibumi Honda
Sound Recorder: Teishiro Hayashi
Lighting: Masakuni Morimoto
Composer: Riichiro Manabe
Editor: Michiko Ikeda
Special Effects Director: Teruyoshi Nakano
Unit Production Manager: Keisuke Shinoda
Alternate Versions
International
United States
Australia
Germany
Spain
Mexico
Italy
France
Godzilla vs. Megalon
Dub Cast
Chris Hilton as Goro Ibuki
Warren Rooke as Hiroshi Jinkawa
Linda Masson as Rokuro Ibuki
Ted Thomas as Emperor Antonio of Seatopia, Narrator, Radio Announcer
Iterations
Original International

Notes:

The international version was dubbed in Hong Kong. All English versions of the movie utilize the same dub.
The text of the opening and ending credits are in red.
This version was released on DVD by Power Multimedia.
Alternate International

Notes:

An alternate internation version exists where the opening and ending credits have white text, with the same font and size.
This version was released on a British PAL VHS tape.
Revised International

Notes:

Toho produced a "revised" international version which, as with copies of Cinema Shares' versions, has the extended ending shot, showing the actors waiting for their cue to follow Jet Jaguar.
Features smaller ending title with copyright info under it (a la the revised Godzilla vs. Gigan international version).
This version was never released on home video and not known to have been screened, but aired on the Sci-Fi Channel from 2002 to 2007.
Second Revised International

Notes:

An alternate, possibly newer "revised" print exists. This version opens with Toho's current international logo, features "Toho Eizo" card in red, has white opening credits and ends with the same ending title as the other revised print, but without the extended beginning to the montage preceding it.