Godzilla vs. Mechagodzilla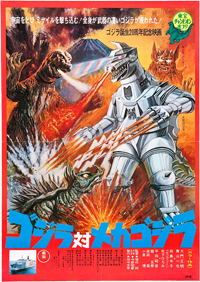 Movie Information:
Release Date: March 21, 1974
Production Company: Toho
Distribution Company: Toho
Original Runtime: 84 minutes
Atlernate Titles:

Japanese: ゴジラ対メカゴジラ
Hepburn: Gojira Tai Mekagojira
Cast
Masaaki Daimon as Keisuke Shimizu
Kazuya Aoyama as Masahiko Shimizu
Akihiko Hirata as Professor Hideto Miyajima
Hiroshi Koizumi as Professor Wagura
Reiko Tajima as Saeko Kanagusuku
Hiromi Matsushita as Ikuko Miyajima
Goro Mutsumi as Kuronuma, Black Hole Alien Leader
Shin Kishida as Nanbara, Interpol Agent
Takayasu Torii as Tamura, Interpol Agent
Beru-Bera Lin as Princess Nami
Masao Imafuku as Azumi High Priest
Daigo Kusano as Yanagawa, Alien Agent #1
Kenji Sahara as Ship Captain
Shinya Kashima as Hotel Clerk (uncredited)
Isao Zushi as Godzilla
Kazunari Mori as Mechagodzilla
Kinichi Kusumi as Anguirus and King Caesar
Crew
Producer: Tomoyuki Tanaka
Director: Jun Fukuda
Special Effects Director: Teruyoshi Nakano
Screenplay: Hiroyasu Yamamura and Jun Fukuda
Story: Shinichi Sekizawa and Masami Fukushima
Cinematography: Yuzuru Aizawa
Music: Masaru Sato
Editor: Michiko Ikeda
Alternate Versions
International
United States
Hungary
Godzilla vs. Mechagodzilla
Dub Cast
Matthew Kaye as Dr. Miyajima, Tamura, Ship's Captain
Linda Masson as Saeko
Matthew Oram as Shimizu, Radio Announcer
Michael Ross (unconfirmed) as Kuronuma, Hotel Clerk
Iterations
Theatrical

Runtime: 84 minutes

Notes:

An English international dub was made in Hong Kong.
New World Home Video

Notes:

New World Home Video released Godzilla vs. Mechagodzilla to VHS and LaserDisc, and was identical to the original international version, aside from copyright information swapped out with the end title.
Sci-Fi Channel

Runtime: 84 minutes

Notes:

Initially airing on the Sci-Fi Channel with a Toho-authorized "Godzilla vs. The Cosmic Monster" title card in the same font as the original international version, the title was changed back to the official international title for later airings.
This version was completely uncut, and featured previously missing lines.
Sony

Runtime: 84 minutes

Notes:

When Sony released Godzilla vs. Mechagodzilla on DVD in 2004, they made a new video master for Toho. This version was mostly uncut, but was oddly missing a few lines. Copyright information was added to the opening and ending titles, and the original Toho logo was replaced with a CGI logo.