Godzilla vs. Hedorah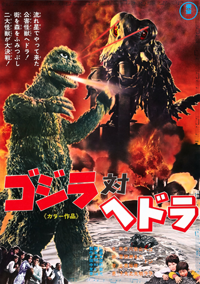 Movie Information:
Release Date: July 24, 1971
Production Company: Toho
Distribution Company: Toho
Original Runtime: 85 minutes
Atlernate Titles:

Japanese: ゴジラ対ヘドラ
Hepburn: Gojira tai Hedora
Literal Translation: Godzilla vs. Hedorah
U.S. Title: Godzilla vs. The Smog Monster
Cast
Akira Yamauchi as Doctor Toru Yano
Hiroyuki Kawase as Ken Yano
Toshie Kimura as Toshie Yano
Keiko Mari as Miki Fujinomiya
Toshio Shiba as Yukio Keuchi
Yoshio Yoshida as Gohei
Haruo Suzuki as JSDF officer
Yoshio Katsube as JSDF engineer
Tadashi Okabe as Scholar
Yasuzo Ogawa as Rioter
Wataru Omae as Policeman
Haruo Nakajima as Godzilla
Kenpachiro Satsuma (as Kengo Nakayama) as Hedorah
Crew
Director: Yoshimitsu Banno
Producer: Tomoyuki Tanaka
Writers: Yoshimitsu Banno, Takeshi Kimura
Screenriters: Kaoru Mabuchi, Yoshimitsu Banno
Composer: Riichiro Manabe
Cinematographer: Yoichi Manoda
Editor: Yoshitami Kuroiwa
Art Director: Yasuyuki Inoue
Sound Recordist: Masao Fujiyoshi
Lighting: Fumiyoshi Hara
Special Effects Director: Teruyoshi Nakano
Optical Photographer: Yoshiyuki Tokumasa
Alternate Versions
International
United States
United Kingdom
Germany
Mexico
Italy
Spain
Godzilla vs. Hedorah
Dub Cast
Linda Masson as Miki Fujinomiya
Barry Haigh as Yukio Keuchi
Chris Hilton as JSDF officer
Iterations
Theatrical

Notes:

The international version of Godzilla vs. Hedorah was dubbed in Hong Kong and conforms to the Japanese version without any major alterations. One of the only Godzilla dubs to feature an obscenity, a faint sounding "Fuck you" can be heard when the hippies are seen throwing torches at Hedorah.
The original international version was released by Power Multimedia on DVD.
In an example of the haphazard standard of duplication inherent to these versions, the English film source used for the fullscreen Italian DVD features the English poem, but at the same time omits the remaining supers seen in every other copy of the international version.
Sci-Fi Channel

Notes:

The version that aired on the Sci-Fi Channel between 1996 and 2006 features added copyright information below the end title, but is otherwise identical to the original international version.
Revised International

Notes:

Some copies struck from the late-'90s onwards feature a repositioned ending title, with the same text size and font, and with copyright info above.
The UK VHS released by Carlton in 1998 featuring this variant leaves the text for Ken's poem in Japanese for some reason.
Sony

Notes:

The Sony DVD version is mostly the same as the revised international version, but is missing any sort of on-screen text for Ken's haiku.
"Restored" audio is also missing a few dubbed vocalizations heard in every other version.