Godzilla: Final Wars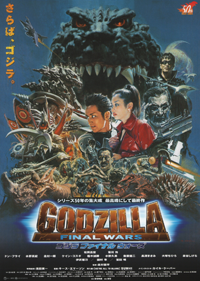 Movie Information:
Release Date: November 29, 2004
Production Company: Toho
Distribution Company: Toho
Original Runtime: 125 minutes
Atlernate Titles:

Japanese: ゴジラ ファイナルウォーズ
Hepburn: Gojira: Fainaru Wozu
Cast
Masahiro Matsuoka as Shinichi Ozaki
Rei Kikukawa as Miyuki Otonashi
Don Frye as Captain Douglas Gordon
Maki Mizuno as Anna Otonashi
Kazuki Kitamura as Xillian Controller
Kane Kosugi as Katsunori Kazama
Masakatsu Funaki as Commander Kumasaka
Kumi Mizuno as Akiko Namikawa
Kenji Sahara as Hachiro Jinguji
Masami Nagasawa as the Shobijin
Chihiro Otsuka as the Shobijin
Shigeru Izumiya as Samon Taguchi
Masatō Ibu as the Xilien General
Jun Kunimura as Major Kumoro
Akira Takarada as Naotaro Daigo
Kenta Suga as Kenta Taguchi
Koichi Yamadera as Narrator
Tsutomu Kitagawa as Godzilla
Naoko Kamio as Minilla and Rodan
Kazuhiro Yoshida as Gigan and Hedorah
Toshihiro Ogura as Keizer Ghidorah, Anguirus, and Ebirah
Motokuni Nakagawa as Monster X and King Caesar
Crew
Producer: Shogo Tomiyama
Assistant Producer: Kazunari Yamanaka
Director: Ryuhei Kitamura
Special Effects Director: Eiichi Asada
Writers: Isao Kiriyama, Ryuhei Kitamura, Wataru Mimura, and Shogo Tomiyama
Cinematographer: Takumi Furuya
Composers: Keith Emerson, Nobuhiko Morino, Daisuke Yano, and Sum 41
Editor: Shuichi Kakesu
Assistant Director: Hiroshi Saito
Art Director: Deborah Riley
Lighting: Toshihide Kosaka
Sound Recording: Teiichi Saito
Production Manager: Takuma Hayashi
Assistant Special Effects Director: Toshifumi Shimizu
Special Effects Cinematography: Fujio Okawa
Special Effects Art Director: Toshio Miike
Special Effects Lighting: Takayuki Kawabe
Special Effects Unit Production Manager: Toshimasa Oura
Visual Effects Opticals: Keiji Igarashi, Atsushi Sasaki, Yoshio Yosimura, and Masaharu Matsuura
Conceptual Designs: Yasushi Nirasawa, Shinji Nishikawa, Yoji Shinkawa, Patrick Tatopoulos, and Katsuya Terada
Still Photographer: Katsuhiko Kudo
Special Effects Still Photographer: Atsuo Nishimoto
Alternate Versions
International
United States
Godzilla: Final Wars
Dub Studio: Red Angel Media
Cast
Rik Thomas as Gotengo Commander and UN Secretary General Naotaro
Iterations
Notes:

Toho produced an international version of Godzilla Final Wars with a dub from the Hong Kong studio Red Angel Media. This version's opening "A Toho Co., Ltd. Presentation" title card, and all location titles, are rendered in English.