Godzilla 2000: Millennium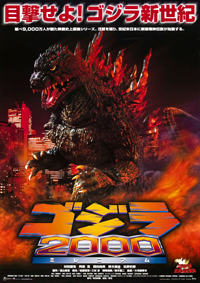 Movie Information:
Release Date: December 11, 1999
Production Company: Toho
Distribution Company: Toho
Original Runtime: 107 minutes
Atlernate Titles:

Japanese: ゴジラ2000 ミレニアム
Hepburn: Gojira Nisen: Mireniamu
U.S. Title: Godzilla 2000
Cast
Takehiro Murata as Yuji Shinoda
Naomi Nishida as Yuki Ichinose
Hiroshi Abe as Mitsuo Katagiri
Shiro Sano as Shiro Miyasaka
Mayu Suzuki as Io Shinoda
Tsutomu Kitagawa as Godzilla
Makoto Ito as Orga
Crew
Producer: Shogo Tomiyama
Director: Takao Okawara
Writers: Hiroshi Kashiwabara, Wataru Mimura
Composer: Takayuki Hattori
Cinematographer: Katsuhiro Kato
Editor: Yoshiyuki Okuhara
Alternate Versions
United States
International
Godzilla 2000
Release Date: August 18, 2000
Production Company: TriStar Pictures
Distribution Company: TriStar Pictures
Dub Studio: TriStar Pictures/Sony Pictures Entertainment
Runtime: 98 minutes
Rated: MPAA PG
Dub Cast
Francois Chau as Yuji Shinoda
Denise Iketani as Yuki Ichinose
Jack Ong as Shiro Miyasaka
Ron Yuan as Mitsuo Katagiri
Rachel Crane as Io Shinoda
Jim Ishida as General Takada
Yoshio Be
Glen Chin
John Cho
Micael Hagiwara
Amy Hill
Rodney Kageyama
Denice Kumagai
Jim Lau
Dana Lee
Lucy Lin
Sachiko
Marilyn Tokuda
Jerry Tondo
Ping Wu
Crew
Dubbing Director: Mike Schlesinger
Additional Music: J. Peter Robinson
Film Editor: Michael Hahoney
Supervising Sound Editor: Darren Paskal
Assistant Film Editor: Ryan Quigley
Re-recording Mixers: Jon Taylor, Greg Orloff, Carlos Delarios
Music Editor: Lisé Richardson
Sound Editors: Nicolas James, Greg Schorer, Richard S. Steele, Brian Reisner, John K. Adams
Voice Casting: Glen Chin
ADR Mixer: Matt Beville
Foley Artist: Dan O'Connell
Iterations
Theatrical

Notes:

Roughly nine minutes of footage is removed in this cut of the film, mostly to improve pacing. Some dialog is rewritten to make the film more lighthearted, and the sound design is also reworked.
J. Peter Robinson composed additional music for this version of the movie, which supplements the original music by Takayuki Hattori.
This version ends with a "THE ? END" title card. During production, the wrong font was used for the ending card, resulting in a cartoony font being mistakenly used. Toho and TriStar mutually agreed to remove this card from future releases.
Home Video

Release Date: December 6, 2000

Notes:

This version is almost entirely the same as the Theatrical version, but the "THE ? END" ending title card has been removed.