Godzilla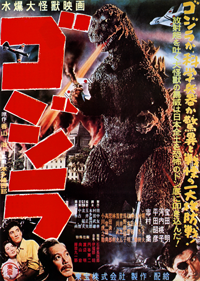 Movie Information:
Release Date: November 3, 1954
Production Company: Toho
Distribution Company: Toho
Original Runtime: 95 minutes
Atlernate Titles:

Japanese: ゴジラ
Hepburn: Gojira
Literal Translation: Godzilla
U.S. Title: Godzilla, King of the Monsters!
Cast
Akira Takarada as Hideto Ogata
Takashi Shimura as Dr. Kyohei Yamane
Momoko Kochi as Emiko Yamane
Akihiko Hirata as Dr. Daisuke Serizawa
Sachio Sakai as Hagiwara
Fuyuki Murakami as Dr. Tanabe
Ren Yamamoto as Masaji Yamada
Toyoaki Suzuki as Shinkichi Yamada
Tadashi Okabe as Dr. Tanabe's Assistant
Toranosuke Ogawa as President of the Nankai Shipping Company
Kenji Sahara as Partygoer
Haruo Nakajima as Godzilla
Katsumi Tezuka as Godzilla
Crew
Producer: Tomoyuki Tanaka
Director: Ishiro Honda
Writers: Takeo Murata, Ishiro Honda
Story: Shigeru Kayama
Composer: Akira Ifukube
Special Effects Director: Eiji Tsuburaya
Cinematographer: Masao Tamai
Editor: Kazuji Taira
Alternate Versions
Japan
United States
Italy
United Kingdom
Germany and Austria
Spain
France
Theatrical title: Gojira
Iterations
Notes:

The original theatrical version of Godzilla has remained widely available in Japan since its release.
Theatrical title: Godzilla, King of the Monsters!
Release Date: May 29, 1957
Production Company: Jewell Enterprises
Distribution Company: Toho
Runtime: 80 minutes
Iterations
Alternate Titles

Japanese: 怪獣王ゴジラ
Hepburn: Kaiju O Gojira
Literal Translation: Monster King Godzilla

Notes:

The American version of the film, starring Raymond Burr, was released in Japanese theaters in 1957 complete with Japanese subtitles. It has been released in Japan on VHS, LaserDisc, and DVD throughout the years.