Godzilla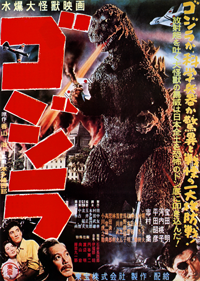 Movie Information:
Release Date: November 3, 1954
Production Company: Toho
Distribution Company: Toho
Original Runtime: 95 minutes
Atlernate Titles:

Japanese: ゴジラ
Hepburn: Gojira
Literal Translation: Godzilla
U.S. Title: Godzilla, King of the Monsters!
Cast
Akira Takarada as Hideto Ogata
Takashi Shimura as Dr. Kyohei Yamane
Momoko Kochi as Emiko Yamane
Akihiko Hirata as Dr. Daisuke Serizawa
Sachio Sakai as Hagiwara
Fuyuki Murakami as Dr. Tanabe
Ren Yamamoto as Masaji Yamada
Toyoaki Suzuki as Shinkichi Yamada
Tadashi Okabe as Dr. Tanabe's Assistant
Toranosuke Ogawa as President of the Nankai Shipping Company
Kenji Sahara as Partygoer
Haruo Nakajima as Godzilla
Katsumi Tezuka as Godzilla
Crew
Producer: Tomoyuki Tanaka
Director: Ishiro Honda
Writers: Takeo Murata, Ishiro Honda
Story: Shigeru Kayama
Composer: Akira Ifukube
Special Effects Director: Eiji Tsuburaya
Cinematographer: Masao Tamai
Editor: Kazuji Taira
Alternate Versions
United States
Japan
Italy
United Kingdom
Germany and Austria
Spain
France
Godzilla, King of the Monsters!
Release Date: April 27, 1956
Production Company: Jewell Enterprises
Distribution Company: TransWorld Releasing Corporation & Embassy Pictures
Runtime: 80 minutes
Cast
Raymond Burr as Steve Martin
Frank Iwanaga as Security Officer
Mikel Conrad as George Lawrence
Dub Cast
James Hong as Ogata and Dr. Serizawa
Sammee Tong as Dr. Yamane
Crew
Producers: Richard Kay, Harry Rybnick, Edward B. Barison
Director: Terry Morse
Writer: Al C. Ward
Editor: Terry Morse
Cinematographer: Guy Roe
Iterations
Theatrical

Notes:

Godzilla, King of the Monsters! was released in the western US by Godzilla Releasing Corp. and in the eastern US by Embassy Pictures. Raymond Burr was prominently added to the film, the nuclear message was softened but still present, and many other edits were made. The film opened with a "Trans World" logo and featured an original "The End" card and ending credits.
16mm Television

Notes:

Early 16mm TV prints began with a single opening credit title placed between the main title card and the start of Burr's narration, reading "STARRING RAYMOND BURR" and "DIRECTED BY TERRY MORSE AND I. HONDA," with Godzilla's stomps heard in the background.
Television & Home Video

Notes:

A master created in the 1980s features a black screen in place of the Trans World logo and cuts out all of the ending credits but the "The End" card. All home media releases in the United States, ranging from releases in the 1980s to the 2002 Classic Media DVD, exclusively used this version of the movie.
Classic Media 2006 DVD

Release Date: September 5, 2006

Released On:

Notes:

Largely the same as the previous home video master, this version reinserts the ending credits sourced from cropped 16mm film elements, though they were placed out of order with the ending shots of the movie.
Criterion Restoration

Release Date: January 24, 2012

Notes:

Criterion's release of Godzilla, King of the Monsters! was sourced from a 35mm fine-grain print. This version features the "Trans World" logo and the ending credits placed correctly into the film.