Genocide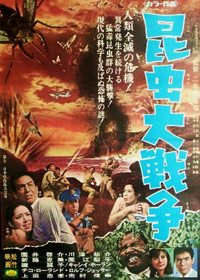 Movie Information:
Release Date: November 9, 1968
Production Company: Shochiku
Distribution Company: Shochiku
Original Runtime: 84 minutes
Atlernate Titles:

Japanese: 昆虫大戦争
Hepburn: Konchu Daisenso
Literal Translation: Great Insect War
U.S. Title: The War of the Insects
Cast
Keisuke Sonoi as Dr. Yoshito Nagumo
Yusuke Kawazu as Joji Akiyama
Emi Shindo as Yukari Akiyama
Reiko Hitomi as Junko Komuro
Cathy Horan as Annabelle
Chico Roland as Charlie
Rolf Jesser as Lieutenant Colonel Gordon
Franz Gruber as U.S. Army Surgeon
Mike Daneen as B-52 Captain
Harold Conway as U.S. Military Commander
William Douyuak as B-52 Pilot
Tadayoshi Ueda as Matsunaga
Toshiyuki Ichimura as Kudo
Hiroshi Aoyama as Fuji
Saburo Aonuma as Police Inspector
Crew
Producer: Tsuneo Kosumi
Director: Kazui Nihonmatsu
Screenplay: Susumu Takaku, Kingen Amada (story)
Cinematography: Shizuo Hirase
Music: Shunsuke Kikuchi
Editor: Akimitsu Terada
Assistant Director: Keiji Shiraki
Art Director: Tadataka Yoshino
Lighting: Yoshifumi Aoki
Sound Recording: Hiroshi Nakamura
Production Manager: Masoyuki Fukuyama
Special Effects: Keiji Kawakami, Shun Suganuma
Alternate Versions
Genocide
Dub Cast
Ted Thomas as Lieutenant Colonel Gordon
Barry Haigh as Joji Akiyama
Esma Wilson as Yukari Akiyama, Annabelle
Iterations
Notes:

The film was not sold to any companies stateside in the 60s, perhaps owing to its very dark and nihilistic themes and especially its anti-American sentiments. However, the full international export version was released in the US on DVD-R by gray market outlet Sinister Cinema telecined from a letterboxed 16mm print around 2008. It would not be officially released in the US until Criterion picked it up in the 2000s and eventually made it available on DVD as part of their Eclipse label.