Gamera vs. Zigra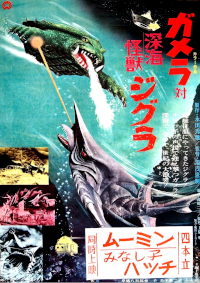 Movie Information:
Release Date: July 17, 1971
Production Company: Daiei
Distribution Company: Dainichi Eihai
Original Runtime: 87 minutes
Atlernate Titles:

Japanese: ガメラ対深海怪獣ジグラ
Hepburn: Gamera tai Shinkai Kaiju Jigura
Literal Translation: Gamera vs. Deep-Sea Monster Zigra
Cast
Eiko Yanami as Woman X / Chikako Sugawara
Reiko Kasahara as Kiyoko Ishikawa
Mikiko Tsubouchi as Mrs. Ishikawa
Koji Fukiyama as Tom Wallace
Isamu Saeki as Doctor Yosuke Ishikawa
Yasushi Sakagami as Kenichi Ishikawa
Arlene Wallace as Erin Zoellner
Helen Wallace as Gloria Zoellner
Crew
Director: Noriaki Yuasa
Producer: Hidemasa Nagata
Screenplay: Niisan Takahashi
Cinematography: Akira Uehara
Music: Shunsuke Kikuchi
Editor: Zenko Miyazaki
Alternate Versions
Gamera vs. Zigra
Release Date: April 3, 1987
Dub Studio: Anvil Studios
Runtime: 89 minutes
Dub Cast
Garrick Hagon as Henry (Isamu Saeki)
Jay Benedict
Liza Ross
Constantine Gregory
Peter Marinker
Iterations
Notes:

Gamera vs. Zigra was never picked up by American International Television, as Daiei had gone bankrupt by 1971 and had to distribute the film through Dainichi Films. As a result, no export version could be prepared.
In the 1980s, distributor Sandy Frank acquired the rights to five classic Gamera films, had new video versions prepared, and distributed them under King Features Entertainment.
The English dubbing is uncredited, but it was possibly dubbed at Anvil Studios in England. New credits over an ocean backdrop are placed before the prologue, with the "Persistent Pursuit" track from later in the film serving as the main title cue, complete with Lora Lee's "zap" sound effects from the music & effects stems. Additionally, Zigra has been given a masculine voice.
Played on Mystery Science Theater 3000 twice. (Once in 1988 and again in 1991).