Gamera vs. Jiger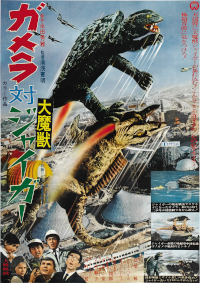 Movie Information:
Release Date: March 21, 1970
Production Company: Daiei
Distribution Company: Daiei
Original Runtime: 83 minutes
Atlernate Titles:

Japanese: ガメラ対大魔獣ジャイガ
Hepburn: Gamera tai Daimaju Jaiga
Literal Translation: Gamera vs. Giant Devil Beast Jiger
Original U.S. Title: Gamera vs. Monster X
Cast
Tsutomu Takakuwa as Hiroshi Kitayama
Kelly Varis as Tommy Williams
Katherine Murphy as Susan Williams
Sanshiro Honoo as Keisuke Sawada
Junko Yashiro as Miko Kitayama
Kon Ohmura as Ryosaku Kitayama
Akira Natsuki as Doctor Suzuki
Crew
Director: Noriaki Yuasa
Producer: Hidemasa Nagata
Screenplay: Niisan Takahashi
Cinematography: Akira Kitazaki
Music: Shunsuke Kikuchi
Special Effects Cinematography: Yuzo Kaneko
Editor: Zenko Miyazaki
Alternate Versions
International
United States
Gamera vs. Jiger
Release Date: March 21, 1970
Runtime: 83 minutes
Iterations
Notes:

An uncut international dubbed version may have been produced. No prints of this particular version with unique audio or visual elements are known to have surfaced, though some advertising materials have. It is also unknown where this dub would have been recorded.