Gamera vs. Guiron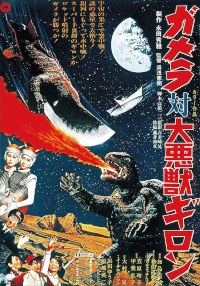 Movie Information:
Release Date: March 21, 1969
Production Company: Daiei
Distribution Company: Daiei
Original Runtime: 82 minutes
Atlernate Titles:

Japanese: ガメラ対大悪獣ギロン
Hepburn: Gamera tai Daiakuju Giron
Literal Translation: Gamera vs. Giant Evil Beast Guiron
Original U.S. Title: Attack of the Monsters
Alternate Home Video U.S. Title: Gamera vs. Guillon
Cast
Nobuhiro Kajima as Akio
Christopher Murphy as Tom
Miyuki Akiyama as Tomoko
Eiji Funakoshi as Doctor Shiga
Kon Ohmura as Kondo
Yuko Hamada as Kuniko
Edith Hanson as Tom's Mother Elsa
Reiko Kasahara as Florbella
Hiroko Kai as Barbella
Crew
Director: Noriaki Yuasa
Producer: Hidemasa Nagata
Screenplay: Niisan Takahashi
Cinematography: Akira Kitazaki
Special Effects Cinematography: Kazufumi Fujii
Music: Shunsuke Kikuchi
Editor: Zenko Miyazaki
Alternate Versions
International
United States
Gamera vs. Guiron
Release Date: March 21, 1969
Dub Studio: Pedro Production, Ltd.
Dub Cast
Mike Daneen as Cornjob (Kondo)
Iterations
Notes:

An uncut international version was dubbed in Tokyo. No prints of this particular version with unique visual elements are known to have surfaced, though some advertising materials have.