Frankenstein vs. Baragon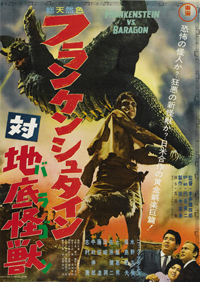 Movie Information:
Release Date: August 8, 1965
Production Company: Toho
Distribution Company: Toho
Original Runtime: 93 minutes
Atlernate Titles:

Japanese: フランケンシュタイン対地底怪獣バラゴン
Hepburn: Furankenshutain tai Chitei Kaiju Baragon
Literal Translation: Frankenstein vs. the Subterranean Monster Baragon
U.S. Title: Frankenstein Conquers the World
Cast
Nick Adams as Dr. James Bowen
Tadao Takashima as Dr. Yuzo Kawaji
Kumi Mizuno as Dr. Sueko Togami
Yoshio Tsuchiya as Captain Kawai
Peter Mann as Dr. Liesendorf
Takashi Shimura as Army Surgeon
Yoshifumi Tajima as Commander Murata
Keiko Sawai as Tazuko Toii
Ikio Sawamura as Dog Owner
Junichiro Mukai as Policeman
Toshihiko Furata as Peasant
Yutaka Sada as Hospital Director
Hideo Shibuya as Reporter
Ren Yamamoto as Motoki
Haruya Kato as TV Director
Yutaka Nakayama as TV Lighting Man A
Senkichi Omura as TV Lighting Man B
Yasuyuki Saijo as TV Camerman
Shigeki Ishida as University Professor
Kenzo Tabu as Newspaper Editor
Mitsuo Tsuda as Engineer
Shoichi Hirose as Tunnel Worker
Kozo Nomura as Reporter #2
Tadashi Okabe as Reporter #3
Masaki Tachibana as Reporter #4
Nadao Kirino as Inspector Okabe
Kenji Sahara as Lt. Tadokoro
Jun Tazaki as Military Advisor
Susumu Fujira as Osaka Police Chief
Hisayo Ito as Osaka Police Sergeant
Nobuo Nakamura as Dr. Suga
Yoshio Kosugi as Soldier
Noriko Takahashi as Girl at Lodge
Koji Furuhata as Frankenstein
Sumio Nakao as Boy Frankenstein
Haruo Nakajima as Baragon
Crew
Producers: Tomoyuki Tanaka, Henry G. Saperstein, Reuben Bercovich
Director: Ishiro Honda
Special Effects Director: Eiji Tsuburaya
Screenplay: Takeshi Kimura (as Kaoru Mabuchi), Jerry Sohl (synopsis), Reuben Bercovich (story)
Cinematography: Hajime Koizumi
Music: Akira Ifukube
Editor: Ryohei Fujii
Assistant Director: Koji Kajita
Art Director: Takeo Kita
Lighting: Shoshichi Kojima
Sound: Sadamasa Nishimoto
Sound Recording: Wataru Konuma
Production Manager: Yorihiko Yamada
Assistant SFX Director: Teruyoshi Nakano
SFX Cinematography: Sadamasa Arikiawa, Mototaka Tomioka
SFX Art Director: Akira Watanabe
SFX Lighting: Kuichiro Kishida
SFX Unit Production Manager: Tadashi Koike
VFX Opticals: Hiroshi Mukoyama
SFX Wire Work: Fumio Nakadai
Still Photographer: Kazukiyo Tanaka
Makeup (Frankenstein): Riki Konna
Alternate Versions
United States
United Kingdom
Latino
France
Italy
Frankenstein Conquers the World
Release Date: July 8, 1966
Distribution Company: American International Pictures
Dub Studio: Titan Productions, Inc.
Runtime: 86:56 minutes
Dub Cast
Lucy Martin as Dr. Sueko Togami
Bernard Grant as Dr. Yuzo Kawaji
Larry Robinson as Captain Kawai
Kenneth Harvey as Military Advisor, Osaka Police Chief
Jack Curtis as Army Surgeon, Reporter
Bret Morrison as Reporter #2, Akita Oil Field Employee
Crew
Producer: Salvatore Billitteri
Iterations
Theatrical

Notes:

A short conversation between Kawai and his superior during the prologue and a lengthy sequence where Dr. Bowen and Sueko go to visit a dead female patient's grave are cut.
Some alternate takes and footage are used during Frankenstein's escape scene. This footage, which like the Oodako alternate endping sequence, was filmed at Saperstein's insistence, shows a more aggressive Frankenstein and includes some coverage of police officers being crushed by rubble as Frankenstien breaks out of captivity. A slightly later sequence shows Frankenstein bending a lamppost and throwing it at a police cruiser and then grabbing the cruiser and throwing it, causing it to explode. There is a stutter in Ifukube's music during the sequence.
The ending also uses some of Ifukube's music from the alternate octopus ending.
While not included in any cut of the movie, it is worth mentioning an alternate ending was filmed at the insistence by producer Saperstein where, after Frankenstein defeats Baragon, he is attacked by Oodako, a giant octopus and drowned in a lake. Honda and Tsuburaya filmed and finished the sequence. However, for whatever reason, Saperstein changed his mind and the scene was discarded and used in neither the Japanese or US edits, though musical cues from the sequence can be heard as Frankenstein sinks into the ground in the U.S. edit. The alternate ending finally reappeared in the 1980s as an extra on Toho's VHS and LaserDisc and was available on Media Blasters' region 1 DVD.
UPA TV

Release Date: Circa 1980's

Notes:

UPA made a TV version with video generated credits which is the version most often seen on television in the U.S. in the 90's, airing several times on TNT and AMC. This master has some sound synchronization issues.
Monsters HD Master

Release Date: Circa 2004

Notes:

Monsters HD aired a 16x9 cropped reconstruction of the US version. It uses a pristine Japanese source for majority of the picture, reverting to a much poorer, oddly framed AIP source for the English location cards and the ending, but uses the UPA end title card.
This version is missing many shots and lines, and features neither of the extensions to the two scenes from the American theatrical version.
Media Blasers DVD

Release Date: June 26, 2007

Notes:

Media Blasters created a scope reconstruction of the US version directly based on the Monsters HD version. Location cards are all digitally recreated, and bear only a slight similarity to the original opticals.