ESPY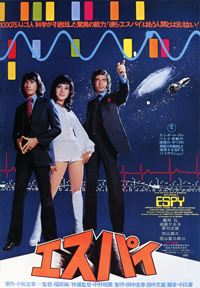 Movie Information:
Release Date: December 28, 1974
Production Company: Toho
Distribution Company: Toho
Original Runtime: 94 minutes
Atlernate Titles:

Japanese: エスパイ
Hepburn: Esupai
Cast
Hiroshi Fujioka as Yoshio Tamura
Kaoru Yumi as Maria Harada
Masao Kusakari as Jiro Miki
Yuzo Kayama as Hojo
Tomisaburo Wakayama as Wolf
Katsumasa Uchida as Goro Tatsumi
Eiji Okada as Salabad
Goro Mutsumi as Teraoka
Luna Takemura as Judy
Yamaya Hatsuo as Ball
Steve Green as Baltonian Prime Minister
Jimmy Shaw as Godonov
Andrew Hughes as P.B.
Willie Dorsey as Abdullah
Rolf Jesser as Counter ESPY Agent #1
Franz Gruber as Counter ESPY Agent #2
Gelmal Reiner as Counter ESPY Agent #3
Burt Johansson as Counter ESPY Agent #4
Robert Dunham as Plane Captain
Crew
Producers: Tomoyuki Tanaka, Fumio Tanaka
Director: Jun Fukuda
Special Effects Director: Teruyoshi Nakano
Screenplay: Ei Ogawa, Sakyo Komatsu (novel)
Second Unit Director: Kenjiro Omori
Cinematography: Shoji Ueda
Music: Masaki Hirao
Editor: Michiko Ikeda
Assistant Director: Tsunesaboro Nishikawa
Art Director: Yoshiro Muraki
Lighting: Masakuni Morimoto
Sound Recording: Toshiya Ban
Production Manager: Keisuke Shinoda
Stunts: Japan Action Club
Special Effects Cinematography: Mototaka Tomioka
Special Effects Lighting: Yoshio Oguchi
Visual Effects Optical Photography: Takeshi Miyanishi
Special Effects Continunity: Kazunobu Sanpei
Costume Design: Masahisa Shimura
Still Photographer: Takashi Nakao
Alternate Versions
ESPY
Dub Cast
Matthew Oram as Hojo
Barry Haigh as Yoshio Tamura
Iterations
International

Notes:

An export version was made with English dubbing done in Hong Kong. The full international version was not made available anywhere that we know of.
US TV

Runtime: 87 minutes

Release Date: Circa 1981

Notes:

In the U.S. the film was released directly to television by UPA in 1981 and retains the Hong Kong dubbing.
The Hong Kong dubbing is kept but the film cuts all violence and nudity, often times in a very choppy way. The dance sequence with Kaoru Yumi where Abdullah has his tongue ripped out psychically by Tamura is removed almost completely and no explanation is given as to why the character wears a surgical mask for the rest of the movie. The "Bondian" open credits sequence is also removed, as is the opening narration. Most of the film's gory shootings (including the death of Katsumasa Uchida's character) is cut and also some character development and dialog is also cut, including Andrew Hughes' short sequence.
In the United States the film was released on VHS by Paramount/Gateway in 1994.