Dogora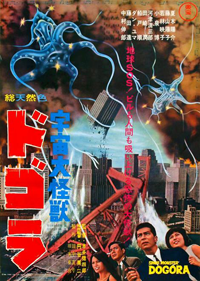 Movie Information:
Release Date: August 11, 1964
Production Company: Toho
Distribution Company: Toho
Original Runtime: 81 minutes
Atlernate Titles:

Japanese: 宇宙大怪獣ドゴラ
Hepburn: Uchu Dai kaiju Dogora
Literal Translation: Giant Space Monster Dogora
U.S. Title: Dagora
Cast
Yosuke Natsuki as Inspector Komai
Yoko Fujiyama as Masayo Kirino
Nobuo Nakamura as Dr. Munekata
Hiroshi Koizumi as Kirino
Robert Dunham as Mark Jackson; as Dan Yuma
Akiko Wakabayashi as Hamako
Susumu Fujita as General Iwasa
Seizaburo Kawazu as Gangster Boss
Hideyo Amamoto as Maki
Haruya Kato as Sabu
Yoshifumi Tajima as Tada
Jun Tazaki as Chief Inspector
Jun Funato as Inspector Nitta
Nadao Kirino as Gangster #1
Akira Wakamatsu as Gangster #2
Hideyo Shibuya as Reporter
Haruya Sakamoto as Wagon Driver
Yutaka Oka as Transportation Company Chief
Chotaro Togin as Coal Truck Driver
Tadashi Okabe as Policeman
Yutaka Nakayama as Drunk
Crew
Producers: Tomoyuki Tanaka, Yasuyoshi Tajitsu
Director: Ishiro Honda
Special Effects Director: Eiji Tsuburaya
Screenplay: Shinichi Sekizawa, Jojiro Okami (story Space Mammoth)
Cinematography: Hajime Koizumi
Music: Akira Ifukube
Editor: Ryohei Fuji
Assistant Director: Ken Sano
Art Director: Takeo Kita
Lighting: Shoshichi Kojima
Sound: Hisashi Shimonaga, Cho Tomahisa
Sound Recording: Fumio Yanaguchi
Production Manager: Shigeru Nakamura
Assistant Special Effects Director: Teruyoshi Nakano
Special Effects Cinematography: Sadamasa Arikiawa, Mototaka Tomioka
Special Effects Art Director: Akira Watanabe
Special Effects Lighting: Kuichiro Kishida
Special Effects Unit Production Manager: Tadashi Koike
Visual Effects Opticals: Hiroshi Mukoyama
Visual Effects Optical Photography: Yukio Manoda, Yoshiyuki Tokumasa
Still Photographer: Jiro Tsuchiya
Special Effects Still Photographer: Goichi Araki
Alternate Versions
International
Germany
Italy
Dogora
Release Date: Circa 1965
Dub Studio: Axis International
Dub Cast
Ted Thomas as Dr. Munekata
Nick Kendall as Mark Jackson
Iterations
Theatrical

Notes:

An international export English version was produced. The full international dub can be heard on the 2005 Region 1 Media Blasters DVD.
In 2005, Media Blasters released a Region 1 DVD licensed from Toho. This version, unlike their other Toho DVDs, is not a port of the Toho Region 2 DVD which had not been released yet at the time. The disc features both the Japanese dialog with subtitles and the export dub.
US TV

Runtime: 80 minutes

Notes:

The film was bought by American International Pictures and released directly to television in the US in 1965. Unlike most of AIP's releases, the film was not redubbed and the original Hong Kong dubbing was left intact, probably owing to the fact that it wasn't going to be released theatrically.
The monster's name and film's title has been changed to Dagora, though it is still pronounced Dogora in the dub. The only editorial alteration in the AIP-TV version is the excision of the opening credits which takes the run time down to around 80 minutes.
In the United States, a most likely unlicensed version was released on VHS in the early 1980s by grey market outlet Video Yesteryear. This tape utilized a badly faded 16mm print and obviously went out of print once Yesteryear folded from a lawsuit.