Daimajin Strikes Again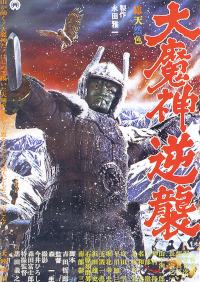 Movie Information:
Release Date: December 10, 1966
Production Company: Daiei
Distribution Company: Daiei
Original Runtime: 87 minutes
Atlernate Titles:

Japanese: 大魔神逆襲
Hepburn: Daimajin Gyakushu
Literal Translation: Daimajin Strikes Again
Cast
Hideki Ninomiya
Masahide Iizuka
Shinji Horii
Muneyuki Nagatomo
Toru Abe
Takashi Nakamura
Hiroshi Nawa
Tanie Kitabayashi
Junichiro Yamashita
Chikara Hashimoto as Daimajin
Manabu Morita
Kazue Tamaoki
Yuzo Hayakawa
Yuji Hamada
Yukio Horikita
Sumao Ishihara
Takeshi Yabuuchi
Shouzo Nanbu
Sojo Shibata
Yoshitaka Ito
Akira Kominami
Masayoshi Kikuno
Masako Tomura
Crew
Producer: Masaichi Nagata
Director: Kazuo Mori
Development: Hisashi Okuda
Writer: Tetsuro Yoshida
Cinematography: Hiroshi Imai & Fujio Morita
Sound Recording: Iwao Ootani
Lighting: Teiichi Ito & Hiroshi Mima
Art: Yoshinobu Nishioka & Shigeru Kato
Composer: Akira Ifukube
Editor: Toshio Taniguchi
Special Effects: Teizo Tanaka
Animation: Yoshio Watanabe
Fight Scenes: Eiichi Kusumoto
Sound Effects: Toru Kurashima
Assistant Director: Hitoshi Oozu
Production Manager: Hiroshi Ozawa
Post Production: Toyo Genzojo
Director of Special Effects: Yoshiyuki Kuroda
Alternate Versions
Daimajin Strikes Again
Release Date: September 12, 2012
Distribution Company: Mill Creek Entertainment
Runtime: 87 minutes
Iterations
Notes:

Daimajin Strikes Again was never released by AI-TV, and thus lacked a dub for nearly 46 years. However, when Mill Creek released the Daimajin trilogy on Blu-ray in 2012 they included a newly produced dub for the film, which was coordinated by Mill Creek's licensor Joyplex Inc. The Blu-ray does not feature any dubbing credits and not much is known about this dub, but it is speculated that the dub was produced by Bang Zoom! Entertainment. This dub conforms to the Japanese theatrical version, features no unique visuals, and contains no edits.