Daimajin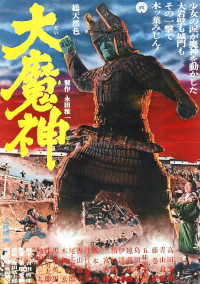 Movie Information:
Release Date: April 17, 1966
Production Company: Daiei
Distribution Company: Daiei
Original Runtime: 84 minutes
Atlernate Titles:

Japanese: 大魔神
Hepburn: Daimajin
Literal Translation: Daimajin
Original U.S. Title: Majin, The Monster of Terror
Cast
Miwa Takada as Hanabusa Kozasa
Masako Morishita as Young Kozasa
Yoshihiko Aoyama as Hanabusa Tadafumi
Hideki Ninomiya as Young Tadafumi
Jun Fujimaki as Sarumaru Kogenta
Otome Tsukimiya as Shinobu
Ryutaro Gomi as Ōdate Samanosuke
Ryuzo Shimada as Hanabusa Tadakiyo
Tatsuo Endo as Inugami Gunjuro
Saburo Date as Chūma Ippei
Shosaku Sugiyama as Kajiura Yusuke
Hideo Kuroki as Harada Magojuro
Shizuhiro Izoguchi as Take-bo, AKA The Boy
Gen Kimura as Mosuke, Take-bo's father
Keiko Kayama as Haruno
Eigoro Onoe as Gosaku
Chikara Hashimoto as Daimajin
Yutaro Ban
Akira Shiga
Jun Ohsugi
Jun Katsumura
Kazuo Moriuchi
Akira Amemiya
Shinjiro Akatsuki
Kanji Uehara
Hatsumi Yoshikawa
Crew
Producer: Masaichi Nagata
Director: Kimiyoshi Yasuda
Art Director: Hisashi Okuda
Writer: Tetsuro Yoshida
Cinematography: Fujio Morita
Sound Recording: Tsuchitaro Hayashi
Lighting: Hiroshi Mima
Art: Akira Naito
Composer: Akira Ifukube
Editor: Hiroshi Yamada
Composition: Teizo Tanaka
Sword Fights: Eeichi Kusumoto
Sound: Toru Kurashima
Assistant Director: Eiji Nishizawa
Executive Producer: Mitsuru Tanabe
Post Production: Toyo Genzojo
Director of Special Effects: Yoshiyuki Kuroda
Alternate Versions
International
United States
The Vengeance of the Monster
Release Date: December 31, 1970
Iterations
Notes:

While it is not believed that an international dub for Daimajin exists, a drive-in theater in Canada showed Gamera vs. Barugon and Daimajin (under the alternate title The Vengeance of the Monster) for a week in late 1970 and early 1971, as reported by the Calgary Herald on December 28th, 1970. Because neither Gamera vs. Barugon nor Daimajin were shown theatrically in North America, and Gamera vs. Barugon has an international dub, the showings at this drive-in suggest that an international dub of Daimajin may have been made.