Atragon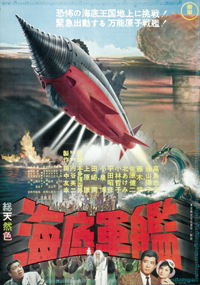 Movie Information:
Release Date: December 22, 1963
Production Company: Toho
Distribution Company: Toho
Original Runtime: 94 minutes
Atlernate Titles:

Japanese: 海底軍艦
Hepburn: Kaitei Gunkan
Literal Translation: Undersea Warship
Cast
Tadao Takashima as Susumu Hatanaka
Yoko Fujiyama as Makoto Jinguji
Hiroshi Koizumi as Detective Ito
Ken Uehara as Kusumi
Yu Fujiki as Yoshito Nishibe
Kenji Sahara as Uoto Uono
Jun Tazaki as Captain Hachiro Jinguji
Yoshifumi Tajima as Officer Amano
Akihiko Hirata as Agent No. 23
Hideyo Amamoto as Mu High Priest
Tetsuko Kobayashi as Mu Empress
Michio Minami as Lt. Fuji
Haruya Sakamoto as Sergeant Yamada
Akemi Kita as Rimako
Minoru Takada as Defense Secretary
Susumu Fujita as Defense Commander
Mitsuo Tsuda as Defense Agency Executive
Shin Otomo as Government Official
Hisaya Ito as Shindo
Nadao Kirino as Kidnapped Engineer
Ikio Sawamura as Taxi Driver
Tetsu Nakamura as Ship's Captain
Yutaka Nakayama as Sailor
Sadako Amemiya as Memoko
Crew
Director: Ishiro Honda
Producer: Tomoyuki Tanaka
Screenplay: Shinichi Sekizawa, Shigeru Komatsuzaki (story), Shunro Oshikawa (novel)
Composer: Akira Ifukube
Cinematographer: Hajime Koizumi
Editor: Ryohei Fujii
Special Effects Director: Eiji Tsuburaya
Assistant Director: Koji Kajita
Art Director: Takeo Kita
Lighting: Shoshichi Kojima
Sound: Hisashi Shimonaga
Sound Recording: Masanao Uehara
Production Manager: Shigeru Nakamura
Assistant Special Effects Director: Teruyoshi Nakano
Special Effects Cinematography: Sadamasa Arikiawa, Mototaka Tomioka
Special Effects Art Director: Akira Watanabe
Special Effects Lighting: Kuichiro Kishida
Special Effects Unit Production Manager: Tadashi Koike
Visual Effects Optical Photography: Yukio Manoda, Yoshiyuki Tokumasa
Conceptual Designs: Shigeru Komatsuzaki
Still Photographer: Jiro Tsuchiya
Alternate Versions
International
United States
United Kingdom
Germany
France
Atragon
Release Date: January 10, 2006
Dub Studio: Axis International
Dub Cast
Ted Thomas as Makoto Jinguji
John Wallace as Admiral Kusumi
Iterations
Notes:

An international export English version was produced. The film was dubbed into English in Hong Kong. The full international dub can be heard on the Region 1 Media Blasters DVD.